Introducing the new Six Sigma Solar Address Light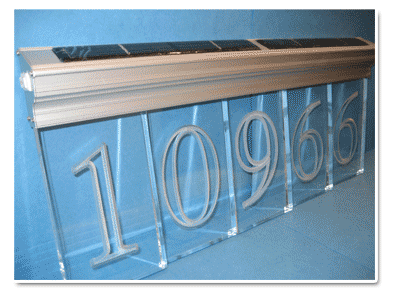 When an everyday home addess sign just won't do! We are all too familiar with them. You purchase them at your neighborhood box store in the form of adhesive numbers for your mailbox or home. Even then, they are not visible at night and far from an expression of the quality one expects for the home.
You invest time and money inside your home, now you can invest very little to give your home impressive curb appeal with a new brilliant state-of-the-art design using the energy eddicient power of the sun! This smart engineering technology is by far superior to any other home addess number system available on the market today. It is easy to assemble & install, highly visible from the street and completely customizable. No more searching for that house number again at night. Along with its practical function, the quality design is sleek, attractive and expresses the quality you desire for your home.
Unlike other systems in the market who use plastic panels, a single battery and small solar panel, the new Six Sigma Solar Address Light includes 5 UV protective 5" x 3" acrylic digits, 3 rechargeable batteries, large solar panel, and 5 bright LEDs which illuminate a brighter light from dusk to dawn. The fixture is weather resistant and includes a 1-year warranty.